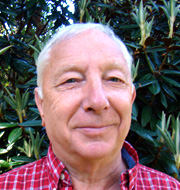 Welcome from Ken Webb - ARS President:
On behalf of the thousands of rhododendron enthusiasts worldwide "welcome to our web site." Here you will find valuable resources which enable you to learn more about the selection and care of rhododendrons. We hope this will encourage you to explore all that the genus Rhododendron (which includes azaleas) has to offer, and you will include these wonderful plants in your garden.
"Take a look" at what we do in the Society...
---
2020 ARS Annual Convention
The six chapters of ARS District 4 will host the 75th anniversary Convention, titled "2020 Vision, Looking Forward Reflecting Back" to be held at the Heathman Lodge in Vancouver, WA on April 29 to May 3, 2020, with optional pre-tour, April 27-28, and post-tour, May 3-5. Informative guest speakers include Jens Nielsen, Kenneth Cox, Lionel de Rothschild and Steve Hootman. Outstanding garden tours are planned to the Crystal Springs Garden, the Cecil and Molly Smith Garden and the Lan Su Chinese Garden. Put this event on your calendars. More information
---

Informative articles about:
- rhododendron & azalea culture,
- propagation,
- hybridizing,
- private & public gardens,
- plant portraits,
- companion plants,
- plant hunting exploration,
- rhododendron research,
- and much more.
Visit archive of previously published issues.
---

Visit the ARS' Pinterest social media web site.
Call for Research Grant Proposals
The ARS Research Committee is pleased to announce its call for applications for rhododendron research grants for 2020. Application details.
Grants Awarded for 2019
• Dr. Vanessa Koelling, Auburn University, Montgomery, AL
• Dr. Gerardo H. Nunez, University of Florida, Gainesville, FL
• Dr. Chase M. Mason, University of Central Florida, Orlando, FL
• Dr. Anna Asatryan, National Academy of Sciences of Armenia
---
American Rhododendron Society
P.O. Box 214, Great River, NY 11739
Ph: 631-533-0375 Fax: 866-883-8019 E-Mail:
, ARS, All rights reserved.