Like many American Rhododendron Society members, I share my garden with various "critters", including deer. Fortunately, the local deer don't like most rhododendrons, although they do like azaleas and evergreen azaleas, in particular, are akin to deer candy. I'm not able to fence the front yard (local by-lines and all that), so I've basically surrendered my front garden to the deer. As time has gone on, I've gradually switched many companion plants to things the deer don't seem to like. So, instead of Hostas, I now plant Brunnera - a lovely foliage plant with small blue flowers; the only tulips in the front are now in a pot on the porch, but I can plant snowdrops and daffodils. So, far, the deer have left the Crocus alone, so each fall, I add more of these. As well, for fall bulb colour, I find the deer haven't yet eaten Nerine or Schizostylus, but since these tend to be a bit pricey here, I've only planted a few of each so far, and I'm watching to see whether or not Bambi and his pals will eat them. Time will tell if these will work for me. Ferns seem to be generally deer resistant as do hellebores of all types. Hellebores make great companion plants for rhododendrons, having the added bonus of starting to bloom around mid-January in our area, with many new varieties having attractive foliage. The deer don't like anything with highly aromatic foliage, so in the sunniest areas, I've planted lots of lavender and I could put in some rosemary too. These may not be what generally come to mind as good companion plants for rhododendrons, but they seem to get along fairly well in my garden.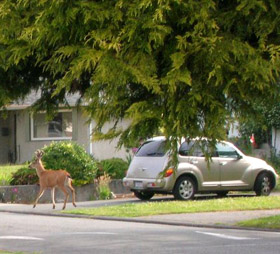 I've seen a couple of techniques that other local gardeners use to encourage the deer to move along. Two of my neighbours use motion activated sprinklers that are placed near their most precious hydrangeas (deer just love hydrangeas!). These seem to work well here, and I'm told that just the noise of the sprinklers starting is enough to get them to move. Other neighbours enclose small trees and shrubs with flexible plastic fencing material as a temporary barrier. And, some of the locals use various deer repellants (Bombax is very popular here). They spray their plants regularly in the spring to train the deer to keep moving by their property in search of something less stinky. Sporadic spraying is needed as a gentle reminder that the plants smell bad.
A great idea I saw recently was to put down wooden pallets on pathways leading from an unprotected garden area to the protected area. In this case, the plants in the back garden were much loved by the deer, but they could only access the area by going along a narrow pathway beside the house. The pallets act like a cattle guard and the deer just don't want to walk across the wooden slats. The gardener in question did say that the wooden pallets get very slippery when wet, but he can just up-end them while he is working, then pop them back on the ground as deer deterrents. Of course, the best deterrent of all is a good fence. Local recommendations say fences should be at least 8 ft high. However, most of us are able to keep the deer out with a standard 6 ft fence as long as shrubs are planted in beds beside the fence line. The theory is that deer need to be able to see an open space where they can land safely upon completing their jump. This certainly seems to work in our area: those of us with dense shrub plantings in a wide bed near our fences haven't had any problems with back yard gardens, but the neighbours with lots of lawns see the deer regularly.
It seems deer will eat anything if they get hungry enough, the trick is to make your garden less inviting than your neighbours. So, since deer don't like rhododendrons, you might as well plant lots! As if any ARS member needed an excuse to plant more rhodies!