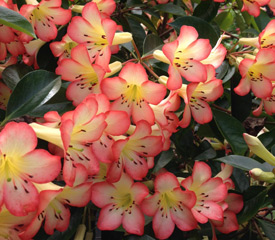 Vireya Rhododendron: 'Veronica Maureen'
Flower inside yellowish white shading to pale yellow in throat and to vivid reddish orange at edges, outside pale yellow-green, tubular funnel-shaped, 2½" across. Flat truss has 7 flowers. Blooms in the spring months. Leaves obovate, flat, 2¾" long. Grows to about 2 feet in 10 years. Hardy to 25°F (-4°C). Hybridized by Clancy.
---
American Rhododendron Society
P.O. Box 214, Great River, NY 11739
Ph: 631-533-0375 Fax: 866-883-8019 E-Mail:
, ARS, All rights reserved.