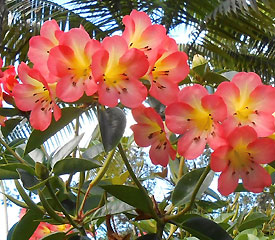 Vireya Rhododendron: 'Kisses'
Flower tube light greenish yellow, both inside and out, lobes deep yellowish pink. Open, flat truss has 4-7 flowers. Blooms all year long. Leaves elliptic, acuminate apex, cuneate base, 1½" long, light green, with minute scales, stems deep red. Grows to a typical height of 4 feet in ten years. Upright plant habit. Hybridized by Blumhardt.
---
American Rhododendron Society
P.O. Box 43, Craryville, NY 12521
Ph: 631-533-0375 E-Mail:
, ARS, All rights reserved.