Here in the Pacific Northwest, we've had a cold, wet and windy spring, so plants are late blooming this year. However, I've finally got a bit of good colour showing now in early April.
R. 'California Gold' is a R. maddenii hybrid, and tender for us so I keep this beauty in a container and bring it in whenever frost is predicted. It's a bit of a nuisance to do, but whenever I see it blooming, I'm glad I took the trouble. The large flowers are soft yellow with brown anthers that show up nicely against the petals. The outer edges of the petals are just a bit frilly, so really nice and, they have the added bonus of excellent fragrance. When in bloom, 'California Gold' perfumes the sunroom and adjacent dining room. One other attractive attribute is the dark red shedding bark.

R. 'California Gold'
R. 'Shamrock' is another pale yellow flowered hybrid in bloom today. Among my acquaintances, I find some people aren't impressed with 'Shamrock'. They think it's too pale with a bit too much green in the flower colour to stand out well. Well, that's just crazy talk! I think this is a sweet, tough little plant and I value it for its early blooms. It is often out in mid-March although this year it's a couple of weeks later. The parents are a dwarf form of R. keiskei and R. hanceanum nanum and 'Shamrock' has inherited their small stature. And, for those who wish it had showier flowers, put it next to something blue like 'Muscari' as the colour contrast is very attractive.

R. 'Shamrock'
My third "bloomer of the day" is lovely R. dendrocharis. This species rhododendron has flat-faced, open flowers of bright pink. The leaves are tiny and very dark green. In the wild, R. dendrocharis usually grows as an epiphyte, so it needs excellent drainage. Other than that, I've found it easy to grow. I keep it where it gets dappled shade and protection from the noonday sun during the summer.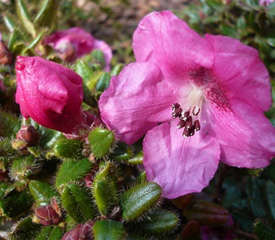 R. dendrocharis