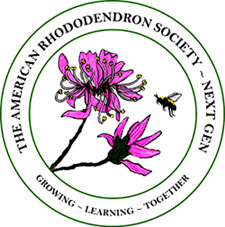 A New Program of the ARS
Our Goal: Attract and prepare the Next Generation (Next Gen) of Rhododendron experts.
The Program's Target Group
• Early career individuals who work in a professional capacity with students and/or with plants.

• Students in post-secondary education programs in horticulture, biology, conservation or other related fields.
Next Gen Benefits:
• Networking opportunities
• Mentoring by experts
• Research opportunities
• Experiential learning
• Publishing opportunities
• Conservation knowledge
• Research funding
• Sponsorships
• References for jobs

Photo by Christina Woodward
ARS Resources & Expertise:
• International network of experts
• Mentorships
• Volunteer projects
• Plant culture & care knowledge
• Journal publications
• Test and display gardens
• Rhododendron Research Network
• Research funding
• Sponsorships