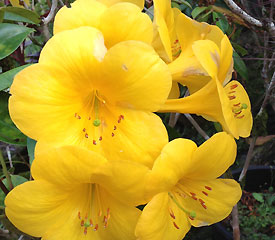 Vireya Rhododendron: 'Toyama Yellow'
Flower vivid yellow with a strong orange-yellow center, unmarked, color deepens as flower matures, tubular-funnel shaped, 4.2" across, flat-edged lobes, moderately scented. Open, dome-shaped truss holds 6 flowers. Blooms about four times per year. Leaves elliptic, acuminate apex, rounded base, upcurved margins, 4¾" long, semi-glossy, moderate olive green. Grows to a height of about 4 ft. in 5 years. Plant hardy to at least 40°F (4°C).
---
American Rhododendron Society
P.O. Box 43, Craryville, NY 12521
Ph: 631-533-0375 E-Mail:
, ARS, All rights reserved.